Body Skin Care
Step By Step Body Skin Care: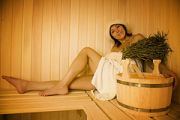 1. Cleansing And Exfoliating The Body:
You can use a soap-free mild liquid cleanser everyday and an exfoliating scrub once every 2 days. In case of dry skin restrict the use of soaps only to the pubic area and armpits. Take short showers and use mild cleansers like Neutrogena, cetaphil and dove. Exfoliators can be oil-based, creamy or salt-based. Choose them as per your skin type and remember to use them before you shave in order to avoid irritation. You can also make your own scrub at home. Use the scrub in a circular motion starting at your shoulder and going down. Regularly used (at an interval of 2 days in case of oily skin type; and twice a week in case of normal / dry skin types) , exfoliation helps clear the dead cells accumulated on the skin and leads to a glowing complexion. You can take cleansing treatments a stage further if you wish and visit a sauna. Sweating it out in the sauna is one of the simplest and most effective ways to cleanse your body from within. A good time to take a sauna is after exercise, as the heat can flush out lactic acid from your muscles. Remember to take a cool shower after a sauna and drink plenty of water.
Home-made Body Scrubs: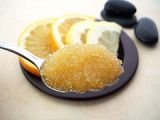 1. Home-made Super Scrub: Create a super-powdered body scrub with fruits containing fruit acids. These help dissolve dead skin cells, which can then be whisked away. Mix the following: 1 guava, 1 kiwi, a handful of dead sea salts, 2 tbsp honey. Apply to the body in a circular motion.
2. Citrus Body Scrub: Orange peel is mixed with the slightly gritty texture of ground sunflower seeds, oatmeal and sea salt in this reviving scrub, remove dead skin cells and stimulate the blood supply to the skin, leaving it feeling tingling and toned.
Ingredients: 3 tbsp freshly ground sunflower seeds, 3 tbsp medium oatmeal, 3 tbsp flaked sea salt, 3 tbsp finely grated orange peel, 3 drops grapefruit essential oil, almond oil.
Mix together all the ingredients except the almond oil and store in a sealed glass jar. Using just a little at a time, mix with some almond oil to make a thick paste, then rub over damp skin.
3. Soothing Bath Mix: Add to the bath water to calm irritated skin, but don't use this on broken skin.
Ingredients: 1/2 cup cider or wine vinegar, 2 tbsp honey, 1/2 cup lemon juice, or 1 cup oatmeal.
If the sensitivity is intense, leave out lemon juice as it will sting, and substitute a muslin bag of oatmeal.
4. Skin Softening Bath Mix: A very nourishing and soothing combination.
Ingredients: 3 tbsp oatmeal, 1 tbsp bran, 1 tbsp ground almonds, 1 tbsp wheat flour, few drops rose water.
Put all the dry ingredients together into a muslin bag and add to the bathwater with the rose water.5. Milk Bath: Just add a few handfuls of powdered milk to the warm water and bathe like Cleopetra.
Applying A Body Scrub: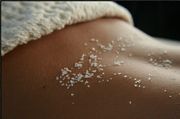 For smoothere, softer skin, mix the scrub with water or oil to make a paste. Work the scrub into damp skin using a firm pressure and paying particular attention to areas of dry skin such as the elbows, knees and ankles. Use a dry flannel to remove most of the scrub and then gently rinse the rest away with warm water.
Step By Step Body Skin Care - Unwanted Body Hair Removal