Cleansing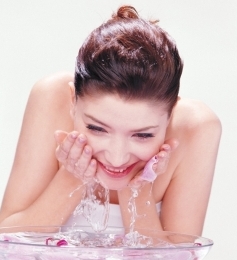 Skin cleansing is a must for skin health and depending on its type must be cleaned frequently and regularly. Ideally you should splash fresh water when you wake up in the morning, have a simple clean up routine before applying makeup, and have a deep cleansing routine to remove all traces of make-up before you goto bed at night. But this is always not possible due to our fast lifestyles. So keep to some simple regular cleaning and leave the deep cleansing procedures for the weekends. But you must always remove make-up before you goto sleep.
How Often Should You Clean Your Face:
Most people Cleanse 2-3 times a day; this is adequate for normal skins. But, if your skin is oily or if you are exposed to a lot of "grime and dirt" during the course of the day, a more frequent cleaning is essential - even 4-5 times a day maybe necessary, using either a mild soap or some kind of cleanser formulated especially for your skin type.
If on the other hand your skin is dry, it is possible to harm it with too frequent a cleaning, specially if you use hot water. With this skin type, it is best to avoid too frequent washing and you may even have to use a suitable oil-based cosmetic cleaner instead of soap, which has a drying effect.
How you clean your face is equally important. If the end of the day cleaning involves removing make-up as well as grime and dirt that has accumulated during the day, then it should definitely be a thorough job. Provided you clean your face well at night, the morning procedure need not be too elaborate.
What Should You Use For Facial Cleansing:


1.Soaps: The most commonly used cleanser is a soap. Ordinary soaps remove dirt and grime from the skin as they contain fats which work very effectively as cleansers of grime and dirt. Soaps also remove cosmetics, but most of the heavily pigmented cosmetics and the water-proof eye make-up products are not easily removed with soaps - for these, a cosmetic cleanser is usually required.
Soaps, however if not properly washed and removed from the skin, attracts dirt; it can also cause irritation of the skin. In hard water areas, soap residue if left on the skin can combine with the calcium and magnesium salts in the water to form a scum, which is really very difficult to remove.
One disadvantage of soaps is that they remove some natural oils from the skin - this has a drying effect. A related action is that, being alkaline, soaps neutralize the natural acidic film on the skin. Though these effects are temporary, they can cause problems in people with dry skin, during cold weather and in conditions of low humidity. The dryness, however, is easily countered by using a moisturizing cream after washing with soap. In hot weather conditions, an oily skin will benefit from 2-3 washes with a mild soap and water.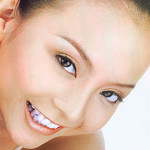 Types Of Soaps:
The type of fatty acid and length of the carbon chain determines the unique properties of various soaps. Beauty soaps are likely to feature attractive fragrances, and ingredients to address a variety of skin types. Soap is made from either vegetable or animal fats. Sodium tallowate, a fatty acid sometimes used to make soaps, is derived from tallow, which is rendered from cattle or sheep tissue. Soap can also be made of vegetable oils, such as palm oil, olive oil, or coconut oil. If soap is made from pure olive oil it may be called Castile soap or Marseille soap. Castile is also sometimes applied to soaps with a mix of oils, but a high percentage of olive oil. An array of oils and butters are used in the process such as olive oil, coconut oil, palm oil, cocoa butter, hemp oil and shea butter to provide different qualities. For example, olive oil provides mildness in soap; coconut oil provides lots of lather; while coconut and palm oils provide hardness. Most common, is a combination of coconut, palm, and olive oils.
The main categories of soap used for facial cleansing are as follows:
1.Medicated Soaps: These are often favoured by people who have spots. The medication added is an antiseptic (natural or synthetic). If you have a sensitive skin, it is best to avoid the use of medicated soaps on your own as the at times they can cause allergic reactions, unless your doctor advises you to use them.
2.pH Soaps: Soaps and detergents generally have an alkaline pH. If, because of its formulation, the pH of a soap falls near enough to neutral, so as not to disturb the pH of the skin, then these soaps are called "pH controlled" soaps. The exact pH is sometimes stated on the label. Since the skin has a tremendous reserve, the pH altered by ordinary soaps is normally rapidly restored after thoroughly rinsing. So these pH controlled soaps are only marginally superior to ordinary soaps.


3.Moisturizing Soaps: These are gentle cleansing bars formulated with natural ingredients to soothe, moisturize, and refresh the skin as it cleanses. Moisturizing Soaps also contains vitamin E, and cold pressed avocado, almond, coconut and olive oils. The most complex mixture of natural minerals and organics blended together.
4.Superfatted Soaps: These contain fatty materials (which are not saporified) to prevent excessive stripping of surface oils. They also deposit an emollient film to replace some of the natural oils removed in the cleansing process - these soaps can be used on dry skins.
5.Transparent Soaps: These are Super fatted soaps with a high glycerin content. Usually used for sensitive and normal-to-oily skin. These soaps are more difficult to prepare and so are expensive. Natural Transparent soaps do not contain any animal fat but are made up of glycerin, natural oils, rosemary, cedar and thyme.
6.Liquid Soaps: Liquid soap for all purposes can be useful. As a detergent, liquid soap tends to work much better than flake soap. There is less of a chance of residue being left on clothing with liquid soap. Liquid soap also works better for those that have to wash in a more traditional manner. Such as will their hands and a washboard. The choice between liquid soap and other soap is entirely up to you. There are pros and cons of both types of soap. The best way to find a soap that works for whatever purpose you are using it for is to give a few of them a trail run.


7.Perfumed Soaps:Most fragrant soaps usually come from plant-based essential oils. Other fragrant soaps get their scents from synthetic fragrance oils, animal-based scents, and other various components. Itís best to use plant-based oils for a natural soap because synthetic fragrance oils could be harsh. Fragrant soaps made from such plant-based essential oils are environmentally friendly among the other types of oils used. Indeed, aromatherapy soap brings great benefits to our body. Now if youíre wondering if the essential oils are really absorbed by our skin, why donít you try smearing garlic essential oil in your ankle? After a while, youíll smell the aroma of garlic in your breath. If you smear lavender oil in your cheek, youíll taste it in a few minutes or even seconds. Try using aromatherapy soap with various oils that will cater to your needs.
8.Exfoliating Soap: Exfoliating soap with minerals and herbs can help to keep skin that is under pressure looking healthy. Exfoliating is important because it take off the oldest layer of skin cells. Using the right soap for exfoliating is very important. Regular soap will not be able to renew skin in the proper way. Exfoliating soap is a great way to revive the skin. Choose exfoliating soap that has a soothing blend of spices and nutrients. Remove dead skin cells and wake up the skin without harming it. Lemon oil exfoliating soap is a great choice for those that enjoy a citrus fragrance. Exfoliating soap is very easy to use. Just rub it on to wet skin and you will be able to notice the difference as soon as you are finished using it.


9.Natural Soaps: The base ingredients in all natural soap are animal and/or vegetable oils, fats and butters which mix with lye and water to produce soap.
10.Herbal Soaps: Depending on your condition and the sensitivity of your skin, herbal soaps can be very effective. Herbal natural cleansing bars are scented with 100% pure essential oils. These glycerin-loaded, olive oil herbal soap cleansing bars are long lasting, and have a wonderful dense rich lather that leaves the skin exhilaratingly clean, soft and supple. Great for all ages and skin types.
11.Organic Soaps: Organic soaps are meticulously handmade in small batches using a special base of organic oils. These soaps are formulated to lock in moisture from their natural ingredients and attract moisture from the atmosphere leaving your skin feeling soft, silky and utterly pampered. They are the purest and most luxurious soaps.
12.Dermatological Bars: Chemically different from soaps these bars may contain additives to minimize the effect on skinís pH, also may include emollients to reduce dryness and contain anti-acne ingredients such as benzoyl peroxide.


13.Speciality Soaps: Sometimes a soap has a particular job to do, a purpose for its existence different than just cleaning and smelling good. Sometimes a soap has to tackle an area that has very specific needs. Whether it's a baby's bottom or a mechanic's greasy hands, what's in the soap and how it's made can make a world of difference. It's for these times that we have made some Specialty Soaps. They were formulated and made with a particular purpose in mind. Every ingredient is geared to make that soap more workable and more effective at that particular job. Then we have our "just for fun" soaps like "Feng Shui"--named after the five elements from feng shui, Earth, Wind, Fire, Water, and Metal.
14.Lye Soaps:Three ingredients went into the making of lye soap: lard, lye, and lots of hard work. Lye is an extremely caustic agent, so the soap makers had to be careful to have just the right concentration. Too much lye would cause the soap to burn the skin, and too little would keep the soap from hardening. Current lye soap manufacturers have substituted different types of oil for lard. Fragrances are added, and sometimes natural oils such as aloe, jojoba, or coconut, which soothe the skin. Fans of lye soap also say that it can help reduce the itching caused by insect bites. Nostalgia is another reason why people like lye soap. Some enjoy homemade lye for the novelty of using the same rugged brown soap that their Great-Great-grandparents used so many years ago.


15.Bubble Bath Soaps: The term bubble bath can be used to describe aerated or carbonated baths, or to describe bathing with a layer of surfactant foam on the surface of the water and consequently also the surfactant product used to produce the foam.
17.Decorative Soaps: Decorative soaps enhance the look and feel of your themed rooms from a chefs gourmet kitchen to your garden bathroom, or can just be given as a gift to someone for that special occasion or holiday coming up in their lives.
18.Handmade Soaps:Handmade soap is special because it retains the natural glycerine created during the soapmaking process, glycerine that is frequently removed by commercial soap makers. This makes handmade natural soap the true "glycerine soap".

Types Of Cleansers