Facials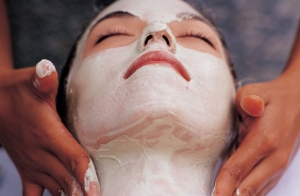 For deep down cleansing and a definite improvement in skin tone, try a facial. If you apply facials just once a month you will notice an improvement in your complexion. Apart from these a facial also exfoliates the skin and hydrates and rejuvenates the skin. A complete facial treatment includes steaming, exfoliation, extraction, creams, lotions, masks, peels, and massages. Although these are performed at a beauty salon by experts you could however perform a simple mini-facial at home following our expert advice.
Benefits Of A Facial:
Facials are deep skin treatments with real benefits to counteract the ravages of pollution and the damaging ultraviolet rays of the sun. Apart from these facials are very relaxing.
1.A facial deep cleanses and removes dirt particles embedded in the skin which cannot be removed by washing alone. A facial helps in opening up the pores through steaming and extraction of these dirt particles.
2.Pollution, Stress and sun's rays together lead to skin damage and pre-mature wrinkling and other skin disorders. Facials are useful as mild treatments to take care of certain skin problems such as the dreaded pre-mature wrinkles.
3.What facials help to do is remove the dead , dull outer layer of cells that make-up the skin's surface or epidermis along with pollutants. Thus, the newer and younger cells underneath are revealed, giving the skin a youthful glow.
4.The actual massage helps blood circulation, which in turn aids lymphatic drainage, the system, which removes our waste and toxins. The massage relaxes the face, which has over 120 muscles and to delay wrinkles it is very important to massage them consistently.
5.Facials provide in depth moisturizing and therefore helps most dry skin disorders.
6.Facials help to remove blackheads and whiteheads effectively.
7.Facials also help to improve the skin tone.
How Often Should You Go For A Facial:


You should ideally get a simple herbal facial once a month, but if seeking an expert Facial at a beauty salon, then a 6 weeks gap between facials is a must as our skin needs that much time to regenerate. However problem skins and acne prone skins need more frequent visits to the Beauty salon as and when your beautician advises. Seasonal changes amy also cause changes in your skin tone and hence a facial is a must.
Types Of Facials