Different Facials For Different Skin Types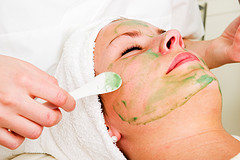 There are mainly five different types of skin (namely normal, dry, oily, combination and sensitive) that you need to consider while deciding upon the type of facial that you want for yourself. Since the texture and problems of these skin types are different is is best to go for facials which cater to these specific skin types. However, the basic steps of cleansing, toning and moisturizing are common to all, while the products used may be different. Additional steps may include exfoliation, steaming and facemasks.
Normal Skin Facial:
This type of skin is soft and shiny. People of this kind of skin should get the facial done within one month.
A.Cleansing:
The first step is cleansing. Your beautician will apply a cleanser to your damp face and starting at the base of the throat work her way upwards and spread the cleanser. Then in a similar fashion the cleanser will be wiped away with a cotton pad. This will remove the oil, grime and makeup.
To make your own cleanser: Mix together equal quantities of ground coriander, ground cumin, ground fenugreek, ground liquorice and chickpea flour and store in air tight containers. When apply take a small quantity and mix with water or rose water. Make a smooth paste and gently rub it onto your skin with small circular movements. Massage off with warm followed by cold water.
More Information On Normal Skin Care


B.Steaming:
Normal skin should be steamed once every fortnight. You can have your steaming done at a parlor or if you prefer to do at home follow these simple guidelines:
1.After your cleansing routine pat your skin dry.
2.Boil a kettle or pot full of water then add herbs (Lady's mantle, marshmallow) and fruity ingredients (about 1/3 cup fresh or dried herbs and fruit slices per 4 cups of water). Boil for a minute or two then remove from heat. Cover and let steep for about 5 minutes.
3.Place pot on counter or table (on top of a towel to protect the table surface) and remove lid. Cover your head with a large clean towel and position your face over the steaming water (with the towel acting as a tent over the bowl to capture the steam).
4.Keep your eyes closed and your face at least 10 to 12 inches from the boiling water during the facial. Enjoy the fragrant steam and relax, but don't overdo it–keep the facial time between 5 to 7 minutes.
5.Once the facial is over, splash face with slightly cool water and pat dry.
6.You can use a few drops of your favorite essential oils instead of fresh or dried herbs.
More information on steaming.



C.Exfoliation:
If you have normal skin, you should exfoliate it about 3 times a week. To exfoliate normal type skin you can use any method of skin exfoliation like chemical exfoliation, manual exfoliation or a combination of each. Using any one of the exfoliators you should always follow the instructions and try not to irritate your skin too much. If you feel your skin too irritated, exfoliation method or exfoliation product should be changed for a gentler one. After exfoliating your skin always use a good moisturizer and sunscreen.
To make your own mild scrub: Milk and sugar make the simplest face scrub for normal skin. Moisten face with water and massage gently. Clean with a teaspoon of sugar. Tone with a splash of water. Moisturize the skin from the top of boiled milk that's been left to cool. Leave this on for 2 minutes, then massage off with water.


D.Face Pack / Face Mask:
One can easily make face packs at home in a few minutes. The juice of fresh fruits and vegetables tone and provide enzymes that help balance and cleanse the skin. Smash or pulp the fresh fruit and vegetables, then add fruit pectin, agar agar, clay or oat flour to firm the mixture so it does not slide off the face. The face pack has property similar to toner. A pack should always be applied after applying a scrubber which opens the pore due to scrubbing effect. Therefore it is important to close down the pores with the help of face pack. Adding Honey underneath a mask treatment is delicious for normal skin, as it smoothes and nourishes the skin by regulating the skins moisture.
More Normal Skin care

Face Pack Recipes and Face Mask Recipes
Toning:

Refreshing and cooling your skin, toners and astringents quickly evaporate after being applied with cotton wool. They can also remove excess oil from the surface layers of your skin. The word "astringent" means it has a higher alcohol content, and it is suitable only for oily skins. The words "tonic" and "toner" mean that they're useful for normal or combination skins, as they are gentler. Rose water makes a refreshing spray, especially in the dryness of air-conditioned rooms or the stuffy heat of a plane, and also helps to set make-up. A cloth or cotton pads wrung out in rose water and placed over closed eyes is the kindest treatment when your eyes are sore. Other flowers can be used in the same way. Lavender water has long been prized for its cleaning, deodorant properties and refreshing scent. For more information click here
Moisturizing:

Normal skin is neither too dry nor too oily. To maintain this natural moisture balance, use a water-based moisturizer that has a light, nongreasy feel. These moisturizers often contain lightweight oils, such as cetyl alcohol, or silicone-derived ingredients, such as cyclomethicone.
For normal skin moisturizers click here