Glow Guide For Brides
Get Glowing Skin: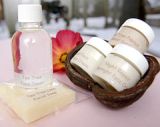 Your skin care needs to get a prime focus during this phase. more often than not, you will find your skin looking either dull or excessively oily and unevenly toned and your skin also breaks out in pimples. Even if you have been neglecting it so far, start a rigorous skincare regime at least a month before your wedding. Skin Therapists suggests at least two professional facials during this period supplemented by at-home treatments. You can ask your beauty therapist to suggest a skincare regime and list out the right products for use at home beforehand. In case you notice a severe breakout, it's best to seek professional help at this time. Avoid bleaching your skin. Your last bleach should be about two weeks before the date. Get your facial two days before the wedding, so that in case of any allergic reactions it can be handles with the right remedies. A herbal or aroma facial is ideal and gentle for a bride. Go for Skin enhancement treatments only after a consultation session with a cosmetologist, where, you're taken through a personalised skin analysis to determine the methods used to achieve the perfect bridal glow. On the wedding day just do a face and neck massage with almond oil, and a few relevant essential oils. Then we apply a therapeutic sandalwood and turmeric mask for that extra glow, followed by toning and conditioning, and last but not the least, moisture infusion and sun protection. Once the skin is primed, go for your makeup. If you've followed a good beauty and health regime for a month, your skin will glow and you may be able to ditch foundation altogether and be the bright bride naturally.
Home Remedies: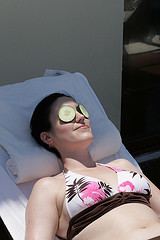 Puffy Eyes: If you are looking sleepy or puffy, your eyes can be quickly soothed and refreshed overnight by placing a couple of eyepads dipped in cool cucumber pulp over the closed lids. You can use this before you start your eye-makeup.
Dull Skin: Take a tsp each of tomato juice and cucumber juice, a few drops of lemon juice and milk. Mix thoroughly with 1 tbsp of raisins, making a paste. Apply this to the skin and leave it on for about 20 minutes; then wash it off with lukewarm water. This pack is an excellent whitener and toner.
Oily Skin: Combine 1/4 tsp lemon juice with 2 tsp grated orange peel along with 100ml milk. Refrigerate this mixture for 24 hours, strain and use. Citrus milk makes a super light cleansing and toning moisturiser. It is suitable for applying under make-up as night milk or all-over body lotion.
Clear Skin Tone: Take 1 1/2 tbsp yogurt; 1 tbsp finely grated orange peel, 1 tbsp oatmeal flakes and 1 tbsp oil. Mix well and scrub gently. It is an excellent treatment for blackheads. It also gets rid of deep-seated grease and unwanted dead skin. It can be used as a daily scrub.
Soft Feet: Take a mixture of dry rice powder, papaya pulp and a little glycerin and gently massage on the feet. Mix two drops of peppermint oil in this mixture. It soothes and refreshes feet and kills bad odour.