Steps For A Home Facial

Home made facials are good to pamper your skin. This is a beauty treatment which helps to rejuvenate the skin and keep it looking fresh and young. Facials increase and improves natural cell regeneration by helping with faster cell renewal of skin. Most of the women like to pamper their face and take great care and go to well known salons to have facials. There are ways that you can have a beauty facial in the comfort of your home. There are various types of home facials, depending on the skin type, whether it is dry, oily, normal, combination type or sensitive. There are several procedures to be follow while doing a facial, keeping in mind the key elements as they vary in nature according to the problems faced. Facials are done for different purposes, some are for keeping the natural smoothness intact in the face, some are done for removing skin tan and returning the skin to its natural colour, some are done for controlling ache and pimples, removing spots and blemishes and dark under eye circles. The most important type of facial is done to remove wrinkles and slow down the aging of the skin. Going for a facial by a professional is an expensive affair. But why make the effort, get dressed up and go out to a salon, when you can get the same benefits, and remain comfortable in your own space. One of the best facial could be done at home with herbal ingredients. They can be done twice a month and it is cost effective too. There are some home made packs which suit different textures of skin and are very convenient to do at home. There are some basic steps to be followed to do a home facial. If you are keen on doing the facial yourself, here are some step by step instructions to help you out. Try it out and see the different in your skin tone shortly.
Steps For A Facial: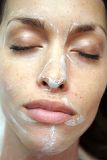 1. Cleanser:
a. This is the first step of cleaning your face with a non lathering cleanser. Take some cream and apply it over your face. Then in circular movements, apply the cream all over your face and neck gently, massaging it.
b. Rub it into your face and leave it to absorb for a couple of minutes to absorb dirt, grime, overnight make up residue and oils.
c. Use a cotton swab and gently wipe the cream off the face and neck area. Be very gently around the sensitive skin around the eyes while rubbing.
d. Wash face with luke warm water.

2. Exfoliate: Scrub contain granules which are rough and rub away the dead skin cells that make the skin appear dull. when it is applied, it makes the skin look fresh and clear. Facial scrubs for oily skin are usually formulated in detergent form. Those who have dry skin used creamy base.
a. Make your face damp by using luke warm water.
b. Massage your face taking a tiny amount of exfoliation cream and rub all over the face.
c. Avoid the eye area and rub in circular motion with your finger tips for about 1-2 minutes.
d. Then rinse face with luke warm water. If you have broken veins or skin infection, then skip this step.
More Steps For A Home Facial