Homemade Beauty Tips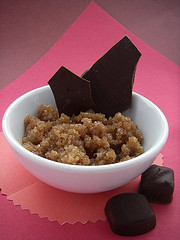 Beauty treatments done at home with fresh natural products from our own kitchen don't just improve skin, hair, body conditions but also act as an antidote to stress.
Natural Facial Beauty Tips:

Oil is excellent for removing make-up and nourishing all types of skin. It enters the finest pores without causing harm. Almond oil, rich in vitamin E, is the traditional favourite.
Any nourishing or rejuvenating facial treatment, such as an oil massage, should work upwards from below your collarbones - an area that is all too often neglected.
A slice of lemon helps lighten darker patches, but don't use this on dry or sensitive skin.
Before applying any homemade product to your face, test it on your inner arm, leaving it for as long as you intend to leave it on your face. If any redness or irritation develops, wash off the mixture at once and discard it.
If you've made more than you need for a facial, why not give your feet and legs a treat too?
Orange peel contains astringent oils and cleanse away excessive skin secretions and help to remove blemishes caused by blocked pores.
For an easy steam treatment, pour a few drops of herbal oil blend into the bath and relax. If you're short on time - or herbs - even plain hot water can be used to steam oiled skin.
Masks contain earth or flour, so don't apply near the delicate eye area or leave them on for more than 20 minutes, as they can be drying.
Experiment to find out what suits you: the richness of avocado makes a soothing facepack.
When you need to look good and haven't time for a full treatment, just try an egg. For oily skin, beat an egg white and spread onto your face. Leave to dry and then wash off thoroughly. This tightens skin for a temporary face-lifting effect. If you have dry skin, use the whole egg, beaten. You can also use egg white or whole egg, depending on your skin type, as a substitute for oil or yogurt in herbal facepacks.
Keep some screwtop jars for mixing and spray bottles for spritzing. Remember to store all natural cosmetics - and even bottled water, once it's opened - in the refrigerator for safety.
Natural Body Care Beauty Tips:

Treat your whole body to a revitalizing mask that sloughs off dead cells, letting skin shine.
For the simplest body scrub of all, massage sea salt onto damp skin and shower off.
A bath treatment to soften your skin can be as simple as a bagful of plain oatmeal swirled in the water.
Whenever you're using oil, take a moment to rub some of it onto your nails.
Natural Hair Care Beauty Tips:

Neem has many healing properties, and is available in the form of powder, oil or leaves. It has long been used to improve hair condition.
Lime juice helps to soothe an irritated scalp and leaves hair with a lustrous shine.
If you don't want to leave oil on your hair for long, wrap your head in a warm, damp towel after applying it, in order to aid penetration.
Budget Beauty Tips