How To Get Fair Complexion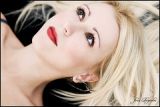 Skin complexion is natural and refers to the appearance and skin tone of an individual. The skin complexion depends upon the place of birth of a person and is also genetic. A person living in areas near the equator or in sunny areas will have darker complexion than people living in temperate areas recieving less sunshine. Moreover, a person who is exposed to the sun for a longer time will also have a darker skin tone. Women generally wish to acquire a fair complexion and can do anything to achieve it. But, one should remember that a fair complexion does not solely make one beautiful, it is the beauty of the inner self and one's personality which is important. Nevertheless one can improve one's skin tone by following a regular skin care regime. Dark skin can be natural or maybe a result of hyperpigmentation. If the skin has an increased amount of skin pigment called Melanin, the skin appears dark in color and vice versa for a lighter colored skin tone.
Causes For Dark Skin:
1.Heredity: People who have a dark skin often have children who are dark-skinned too. The genes seem to pass on from generation to generation.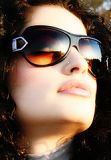 2.Sunlight: Over exposure to sun causes the skin to tan. This is a natural mechanism, wherein to protect itself from the harmful UV rays of the sun, the skin produces more of the pigment melanin which shields the penetration of UV rays into the skin.
3. Hyperpigmentation: In this condition the skin produces too much of the pigment melanin, causing the skin to become darker than usual.
4. Skin Problems / disorders: Conditions such as Lichen Simplex Chronicus is a skin disorder that causes severe itching that leaves the skin thick, dark and patchy.
5.Age: With age, we find that the skin loses its sheen and its texture becomes thin, dry and loose. The cell renewal process diminishes with age.
6. Improper skin care: We can prevent our complexion from deteriorating by following a good skin care regimen. Neglecting your skin for a prolonged period of time and inproper use of cosmetics may cause your skin to get darker. Improper cleansing of oily skin darkens the skin and leads to blemishes, causing acne. The texture of oily skin worsens if the enlarged pores are not arrested; so, be sure to do your toning process daily to close the pores. Cleansing, moisturising and nourishing are essential aspects of dry skin care. If you avoid this routine, the texture of your skin will turn dry and flaky resulting in dull complexion.
7.Use of wrong cosmetics: Excessive use of wrong cosmetics such as oil-based chemical make-up products adversely affect the condition of the skin. The complexion turns sallow, yellow and the texture become thick and greasy.
8.Go slow on fairness creams: Some fairness creams contain mercury drug preparations. They are photosensitive and cause patchy discolouration of the skin in the sun.
Home Remedies For A Fairer Complexion: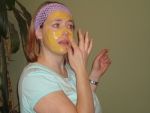 1.Normal Skin:

Prepare a scrub of equal amounts of sandalwood powder mixed with almond powder or almond oil and milk. Massage gently on the darker areas like neck, around lips, below eyes, etc. Rinse with warm water.
Before going to bed wash face with warm water and apply baby powder all over face and neck.
Apply equal amounts of honey and almond oil on face and neck before going to bed.
Make a paste of 4 almonds soaked in milk overnight. Apply it your face and neck before going to bed. Wash with cold water in the morning. Repeat daily for 15 days. It will make your skin fair.
Prepare a paste of chickpea flour (besan), milk (2 teaspoon) and lime juice(3-4 drops) and apply on face and neck, leave for 15 minutes and wash with water. Continue for 15 days. Your complexion should improve. Repeat every 2 weeks.
Mix some turmeric paste or powder to fresh yogurt and apply it on the face, neck and arms for 30 minutes. Then wash with cold water.
More Home Remedies For A Fairer Complexion