Skin Care Tips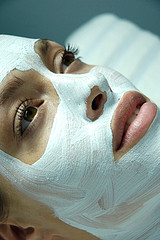 Identifying your skin type is crucial to choosing the products that will give you the maximum benefits and results.
Cleansing And Moisturising Tips:

Cleaning your skin is one of the key ways to maintain a healthy complexion. Cleansing should be the first step of your skincare routine. It should be thorough, but it should also be gentle. A light-easy-to-smooth formula is ideal. Warm it in the palm of your hand first, then massage it gently into the skin before wiping it off with a soft facial tissue or cotton ball. Never drag the skin.
Oils such as jojoba and grapeseed are rich in vitamins and minerals. They will both cleanse and moisturise the skin effectively without making it too greasy.
Face masks are a very effective way of removong impurities
Steam cleansing your face with a herbal infusion will increase the efficacy of the steam and leave your skin clean, refreshed and glowing.
Moisturising face washes are available that will cleanse the skin and help to keep it hydrated.
When applying moisturiser, dab it onto the skin, then gently massage it in. Try not to drag the skin when you do so.
There is a vast array of exfoliating equipment available in the market which help slough away dead skin cells, revealing newer, fresh ones beneath. When deciding to buy, look first at those made from natural fibres, which tend to be gentler on the skin than artificial materials. It is important to keep exfoliating equipment clean and dry when not in use, because bacteria can grow amongst the damp fibres. Nylon-scrubs have the advantage of being machine-washable.
Skin Protection Tips: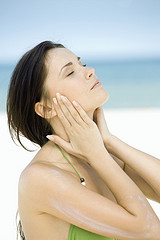 Always use skincare products that contain sunscreen.
Although black skin has a higher natural tolerance to the sun due to its genetic make-up, it still needs protecting.
Wearing a sunscreen with a sun protection factor (SPF) of at least 15 is essential to lessen the effects of the sun, both in terms of health and beauty. The thumb rule is the more intense the sun, the higher the factor needed.
A daily moisturiser containing sunscreen and antioxidants will protect it from environmental damage such as cigarette smoke, smog and supple, but it does not offer sufficient protection against the harmful effects of the sun.
Use a waterproof sunblock or reapply after swimming. When relaxing by the pool or on the beach in the summer, it is essential that you protect your skin with high-factor sunscreen.
UVA rays are the cause of sunburn and skin cancer. If you are regularly over exposed to the UVA rays, watch out for the appearance of new moles or changes in existing ones - this can be a sign of skin cancer.

Body Care Tips