The Importance Of Massage / Benefits Of Massage
Massage is one of the oldest forms of therapy, renowned for restoring physical and emotional wellbeing, treating common ailments, aches and pains and improve energy levels. It encourages us to relax, so is ideal for people who lead busy, stressful lives. The power of massage is largely due to the positive effect it has on the entire body mechanism, improving the body's general resistance to disease, producing a feeling of well-being, and encouraging the body's innate ability to heal itself. There are, however, a variety of specific problems that massage can help relieve. Massage can be used either to soothe and relax or to stimulate and revitalise. It is particularly effective for any stress-related disorders such as tension, anxiety, headaches, muscle pains, sleeplessness, depression, and digestive disorders, and its gentle healing properties are equally effective on ailments ranging from babies' colic to the painful arthritis of the elderly.
Massage - A Remedy For Common Ailments: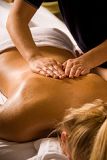 Many conditions maybe helped by either a full-body massage, or massage of the affected part. This section suggests remedies for many common afflictions, but remember that if you are at all unsure about the advisability of undertaking a massage, consult a physician.
Alzhiemer's Disease: A general, all-over massage can sometimes help relieve the symptoms of this disease.
Anxiety, Anxiety Attacks: A full-body massage will help soothe, calm and relax the body.
Arthritis And Rheumatism: Massage gently above and below the affected area, then, with light, gentle strokes, massage the whole area. Direct the strokes upward and toward the heart.
Babies' Ailments: Colic, restlessness, and insomnia can be helped by regular gentle massage.
Back Pain: Massage the whole of the back, neck, legs, feet, and abdomen to reduce pain and relieve tension.
Bereavement: A soothing full-body massage, using flowing rhythmic strokes, helps comfort and relax the sufferer.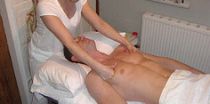 Bronchitis: Massage the upper back, chest, and neck to help reduce tension, stimulate the circulation to the area, improve respiration, and clear the chest.
Bruises: Do not work directly over the bruise: instead work above any area of bruising, toward the heart, to speed healing.
Catarrh: Massage the face, neck, and shoulders to release tension and encourage sinus drainage.
Chilblains: Regular massage will stimulate the circulation and help to reduce the symptoms. Massage also works preventively so if you are prone to chilblains, whole-body massage, paying particular attention to the extremities, will be helpful.
Constipation: Massage the lower back and then the abdomen, slowly circling the area in a clockwise direction using light strokes to begin with and then gradually working more firmly.
Coughs (including asthma): Massage to the back and the neck will release tension and as a result will improve breathing.
Cramp: Massage the affected area to release muscle tension.
Benefits Of Massage (contd.)