Skincare By Season
Summer Skincare: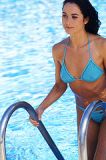 After a day in the sun, most of us will do anything to get winter back. Not least because the hot season brings with it a host of skin ailments that leave us quite irritable. The harsh summer heat and strong sun not only brings about skin irritations and acne but also a host of other problems like sun allergies, acne vulgaris, pigmentation, prickly heat, sun burns and dehydration. Excessive sweating requires you to replenish the body fluid. Stay away from iced beverages because they hinder digestion and can create toxins leading to skin breakouts. Herb or spice teas, made with skin-enhancing ingredients, offer added therapeutic benefit. A rigid skincare routine needs to be maintained so that you do not feel and look rundown at the end of the day.
Summer Skincare Routine: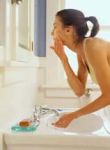 Avoid the sun as much as possible. The hot sun increases sebum production causing your skin to look oily and leading to acne if the oil is not cleansed. Even blackheads develop if dirt gets accumulated and clog the pores. Therefore be very meticulous about your cleaning and use a non-soap based gentle cleanser which will cleanse the skin without robbing it off its natural moisturisers. Natural cleansing ingredients like almond meal, oatmeal, milk and rosewater are perfect for normal to dry skins. Oily skins can opt for chickpea flour and yogurt mixed together along with either sandalwood or neem powders. If using readymade products always opt for an alcohol-free toner for an oily skin and a light non greasy moisturiser for normal to dry skin. Herbal products have become very popular due to their healing properties. Therefore a herbal moisturiser containing sandalwood, turmeric, aloe vera and other skin-friendly herbs would be best for your skin.
A weekly facial with a vegetable or fruit mask will be an ideal treat for your skin during the summer months.

Opt for different facials as per your skin types.
Extra sun protection is a must during the daytime. Wear sunscreen, lip protection, sunglasses and a broad-brimmed hat when you go out-exposure to the sun can age skin very rapidly. A thin mixture of red sandalwood powder and rosewater applied to your skin 2-3 times a week can help it become more resilient. Take an aromatherapy floral water or hydrosol along for the day to stay refreshed. Wear comfortable, light cotton clothes that allow your body breathing space and also wear sandals to let your feet stay odor-free.
Summer Skin Problems:
1. Prickly Heat: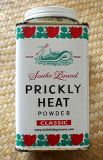 Also known as heat rash, or miliaria (not to be confused with malaria), prickly heat shows up in the form of a red rash with small bumps that often sting or prickle, causing immense discomfort. Excessive sweating can cause your sweat glands to become blocked. This traps sweat underneath your skin which causes irritation and results in a red rash that usually develops on your back, chest and parts of your body that are covered by clothing. People who are overweight and those who sweat easily are more likely to get prickly heat. Although prickly heat doesn't require medication, it is best to seek medical advice if the itching gets very bad. Avoid scratching the affected area as this can lead to a severe rash. In most cases, applying an anti-fungal powder or cold compress provides relief. To ease the irritation, take a cool shower, wear loose, flowing cotton clothes and avoid wearing vests or denims. Also avoid being out in the sun for long and avoid overusing lotions as they clog pores and make the rash sting more.
2. Sun Allergy: Sun allergy is a rash that occurs mainly on exposed skin. Sun allergy is a reaction of the immune system to sunlight. Most often it appears as an itchy, red rash. The most common locations include the "V" of the neck, the back of the hands, the exterior surface of the arms and lower legs. In rare cases, the skin reaction may be severe, producing hives or small blisters that may even spread to other parts of the body. The best and the most effective way to avoid sun allergy is to protect yourself from the sun: wear long-sleeved clothes, carry an umbrella when in the sun and avoid going out especially between 10 am and 4 pm. Also remember that skin care products and medicines may also trigger a photo-allergic eruption. These include antibiotics and oral birth control pills as well as prescription medicines used to treat psychiatric illness, high blood pressure and heart failure.


3. Pigmentation: If you spend a lot of time outdoors during summer, you will be familiar with the problem of pigmentation. Tanning is the most obvious form but other spots may also occur. Hyperpigmentation and the darkening of existing pigmentation is most common among darker skin types. The most common form of pigmentation seen in women is patches on the cheeks and forehead. This is known as Melasma. The condition is aggravated by exposure to sun, pregnancy or abortion. It can also be caused by nutritional deficiency. Besides medication, a diet rich in Vitamin C, protein and green leafy vegetables helps take care of pigmentation.Taking vitamin E capsules can also help. Those with fair skin have to deal with pigmentation like freckles, blemishes and sunspots. This can lead to unevenly tanned or patchy skin, which may get worse with direct exposure to the sun. Prevention is the easiest way to protect yourself. Ensure you shield your skin from the sun. Ensure you apply a good sunscreen (SPF 35) at least thirty minutes before you go out. Reapply sunscreen every three or four hours or earlier, especially if you are swimming. Those with oily skin should opt for a water-based sunscreen and should avoid using creamy lotions. People who tend to perspire a lot end up using deodorants and perfumes on their skin frequently. They should avoid doing this. Deodorants and perfumes should only be sprayed on clothes and never directly on the skin as the fragrance interacts with the sunlight and enhance pigmentation. In case you suffer from pigmentation, avoid using any cosmetics on your face.


4. Hay Fever: Hay fever or seasonal allergic rhinitis strikes a majority of us especially during early spring. The symptoms of hay fever develop as a reaction to allergens (allergy causing substances) in the air, mostly notably to pollen that abounds in the early spring. Other airborne allergens include mold spores, dust, and animal dander. Symptoms of hay fever frequently include nasal congestion, a runny nose, sneezing, nose and eye itching and teary eyes. The most effective way to keep hay fever at bay is to use an anti-allergic medicine or stay away from the cause of the allergy. Allergic rhinitis can lead to conditions like sinusitis and asthma too.
Summer Skincare Tips:

Avoid going out in the sun as much as possible.
Cover your face and head with a wide-brimmed hat, cap or a thick scarf if you do.
Use a good sunscreen whenever you go out. Ensure you reapply it every two or three hours.
Wear cool, loose, cotton clothes that let your skin breathe. Avoid synthetics and denims.
If you have oily skin, use water-based sunscreens or moisturisers.
Avoid using heavy cosmetics if your skin is prone to pigmentation.
Use aloe vera extract on your face to protect it from the sun.
Avoid using deodorants and perfumes directly on your skin. They react with the sunlight to cause pigmentation.
Take bath twice a day with sandalwood or neem-based soaps.
Drink plenty of liquids like water, coconut water, fresh fruit juices, chilled buttermilk etc.
Winter Skin Care