Spa Rituals / Treatments
When you need to look your best, yet you are strapped for time and also have to think of your budget, a spa is the last thing you would consider. In this section we bring to you a wide range of different procedures and a choice of less-fussy indulgences (which are also easier on the pocket).
1. Banish That Ache: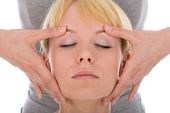 Headache, stiff neck, painful shoulders - in short you're stressed. What you need is a quick Head Massage to snap you back into action. This is generally divided into a massage of the upper back, neck, scalp and face. It involves a combination of deep-tissue massage on the upper back and pressure-point stimulation on the scalp and face. The strokes act as pressure-points to loosen taut muscles and knots on the scalp, neck and shoulders. The goal: to relieve tension and aches; and encourage hair growth. You may opt for a non-oil treatment or a blend of essential oils to suit your requirement.
Time Taken: 25-30 minutes.
Price: $15 approx.
2. For Gorgeous Hair: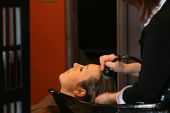 There are several variations of 'hair spa' treatment, basically a deep-conditioning procedure for your hair. This includes a hair wash, a scalp-and-hair massage with a cream suited for your hair type, steam treatment and finally a good rinse. Alternatively, the treatment can be a hair massage followed by a hair pack and wash.
Time Taken: 30-45 minutes
Price: $12
3. Antidote To Stress: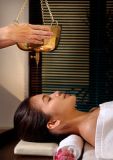 If worries have been weighing you down, shirodhara is the treatment for you. It is an ancient Ayurvedic procedure and derives its name from two Sanskrit words - shiro (head) and dhara (flow). A base oil (generally sesame) is mixed with a few drops of essential oils (such as lavender, geranium, patchouli, lemon, ylang ylang or orange) and the infusion is warmed to a comfortable temperature. While you lie supine on a flat surface, a stream of oil is poured very slowly on the centre of the forehead (the location of the 'third eye') for 30-45 minutes. This is followed by a gentle scalp massage and a hair wash. This treatment induces peace and tranquility.
Time Taken: 45-60 minutes
Price: $30
4. Revitalise Your Reflexes: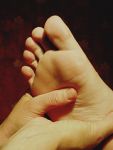 Did you know that all your ailments could be treated by simply massaging your feet? Check out a Reflexology Treatment for instant relief. This is a traditional Japanese technique involving acupressure. The therapist uses her thumb to massage and release pressure from the soles of your feet. Your soles are believed to be the 'mirror' of your body. Each point on the sole represents some organ. By massaging these, the expert actually treats that organ.
Time Taken: 30 minutes
Price: $12 onwards
More Spa Rituals