Sun Protection
Summer Skincare: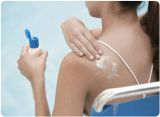 Summer is the time when it's time to reach out for protection from the scorching sun. Although a sunscreen should be used throughout the year, it is best to shield your skin from the harsh summer sun with a sunscreen that has a higher SPF. But there are certain queries which are always there in our minds such as: how much sunscreen needs to be used? When should sunscreen be applied? What sunscreen should I use? Does an Oily skin require a sunscreen at all? How much SPF is good enough? Here is an answer to all of those queries so that you may figure out the proper usage of a sunscreen:
Why Do We Need A Sunscreen: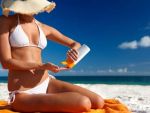 It's vital to protect your skin from the sun as sun damage occurs everyday, in fact every minute that your skin is exposed to the sun. Wheatish to dark complexions stand up well to sunburn in comparison to fairer complexions which tan very easily. However, irrespective of our complexions we need to protect the skin from tanning as well as photo damage that causes fine lines, wrinkles and blemishes - all signs of aging. You can prevent signs of aging from creeping up on you by regular use of sun protection. Therefore, sunscreens are a must, an absolute essential, and must be used at all times when you're outdoors - whether it's summer, winter, or even rainy seasons. However, using sunscreens during summer is all the more important as the sun is harsher and therefore, can cause more damage. Also, a sunscreen is essential if you're in extreme climates - on the beach or up in the mountains. If you're travelling always carry your sunscreen. Moreover if your skin is sensitive to the sun - burns and tans easily - you must use sunscreens regularly.
Sunscreen - Protection Against UV Rays(When To Apply; How Much To Apply; How To Apply;):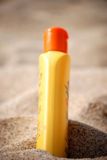 It's best to pick a products that offers protection against Ultra Violet A (UVA) as well as Ultra Violet B (UVB). UVB rays are known to cause sunburn and in extreme cases, skin cancer. UVA ray, on the other hand, cause photo damage like wrinkles, fine lines, blemishes, and sagging skin. UVA rays damage the collagen and the elastic fibres of the skin which cause all those age-related signs of damage. As a rule of thumb, apply your sunscreen 20 minutes before you step out of the house. About one finger tip per area (face, neck, or any exposed area) is the recommended amount: approximately 2 mg per cm sq. If you are going to be out in the sun for a few hours, re-apply the sunscreen every 90 to 120 minutes. This is especially important if you're out in the sun during the danger zone; 10 am to 4 pm. A lot of people tend to use sunscreeen mixed with moisturiser. But that's not a good idea. If you must use a moisturiser, use it separately. Apply the moisturiser as soon as you wash your face and then apply the sunscreen 20 minutes before you step out. If you're on the beach, then you must apply sunscreen every 40 minutes. If, however, your only time out in the sun is the drive between your home and office, then once-a-day application is good enough. But if you are exposed to the sun in your office or home through large windows, regular application becomes important. If you work for long hours in front of a computer - which also emits the harmful UVA rays - use a computer shield. Even if you're using makeup, using a sunscreen is vital. All you need to do is apply the sunscreen before putting on the makeup. During summer, since the sun is harsh and you need to apply sunscreen after every few hours, you also need to reapply your makeup each time - which is a problem - but skin protection is important. You should also look for makeup products that have an SPF component in them. But using a sunscreen alone is not enough. For complete sun protection, always use an umbrella and sunglasses while out in the sun.
Sunblock Or Sunscreen: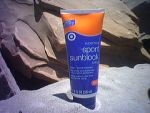 See those white patches on the faces of cricketers when they are out playing in thge field? That's a sunblock. They are usually thicker and heavier than a sunscreen and leave a white patch wherever applied. But sunscreens, a better formulation and a more recent product, have nano particles which make for a lighter, cleaner application.
Choosing For Your Skin:
How many times have you picked up a sunscreen, determined to make it a part of your daily beauty regime, and then stopped after two uses? Choosing the right sunscreen is just as important as using one. First, the best sunscreen for your skin will give the best protection. Second, only if your skin feels good and the sunscreen feels good on your skin, will you use it regularly.


Dry Skin: Look for a cream-based sunscreen so that it adequately moisturises your skin. If you must use a moisturiser, then opt for a sunscreen that has a matt finish.
Normal Skin: Since your skin does need moisturisation, you could use a lotion-based sunscreen. Or if you prefer to use a moisturiser, use a sunscreen that has a matt finish.
Combination Skin: A lotion-based or gel-based product with a matt finish is best for your skin type.
Oily Skin: Heavy-duty sunscreens can block skin pores so loook for a gel-based or a matt finish product. Both will not block the skin pores, which leads to blackheads, whiteheads and pimples.
Sensitive Skin: Be very careful while choosing a product for your skin. Ideally, it should be dermatologically tested and fragrance-free. If you must, use a medicated product.
What Is SPF? Side Effects Of Improper Sunscreens, How To Choose Sunscreens