Aromatherapy At Different Stages Of Life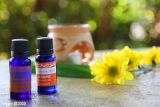 The benefits of aromatherapy can be experienced throughout the day during all the stages of life. Aromatherapy can smooth the transition from childhood to becoming a young woman with gentle cleansing applications and soothing inhalations. The use of aromatic oils have been used effectively to solve several common health problems as well as to cope with stress and emotional upheavals.

The gentle calming effects of essential oils lend themselves perfectly to alleviating the physical discomforts of menstruation and pregnancy. Aromatic baths, soothing compresses and relaxing massage treatments can all help a woman stay naturally healthy throughout her reproductive years.

The onset of the menopause can bring with it physical and emotional problems that can be relieved by the use of essential oils. As we continue to age, essential oil treatments can play their part as a safeguard against the onset of more serious concerns of circulatory disorders, arthritis and digestive problems.
Different Stages Of Life: