Club Spa
What Is A Club Spa: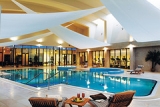 A club spa is a full service day spa which also offers spa and salon treatments, in fact there are different kinds of spas that offer medi-spa treatments salon treatments, destination spa facilities etc. However a club spa is a venture or an organization where the main purpose is fitness and which offers the facility of different kinds of spa services on the basis of day use. Therefore a club spa is a day spa specializing in fitness and fitness regimens with a wide variety of other treatments with regards to beauty and wellness as well.
Why go to a club spa?

The human body is a composition of many diverse elements,maintaining the body's harmony and balance of these elements is but an unavoidable feature of a healthy lifestyle.
Most programs offered in a club spa re fitness related that include personal fitness training, group training and fitness workshops.
The staff at a club spa are always licensed, experienced professionals who are qualified fitness.
Trainers and aestheticians who give facials, massages, manicures & pedicures, waxing & tinting, body treatments and hair services along with other professionals who help you to choose the right quality foods as acceptable required according to individual needs.
Club spa treatments with medical effectiveness are available with consultation on nutrition and wellness advice.
A fitness spa is all about combining traditional health philosophies with hints of a modern a lifestyle; the effectiveness of age old fitness strategies that were by default the secret to health potency.
A club spa is a place where fitness exercises are offered such as yoga, cardiovascular exercises, body toning, sports conditioning, pilates and callanetics.
Yoga is a traditional Indian exercise to help both the physical and mental condition in the human body and is also serves as alternative medicine for people who are on the on-start of an ailment, although yoga is associated to a religious philosophy it is beneficial for the health as well.
Cardiovascular exercises are exercises that involve the large muscles like legs and help make your heart and lungs stronger.
Body toning means shaping specific muscles or muscle groups.
Sports conditioning helps to improve physical fitness and sports performance.
Pilates is based on the method of Contrology, it is about mind over matter and helps create a will power to condition the total body and focuses on the core postural muscles.
Callanetics is a physical fitness exercise that originated from ballet, it concentrates on slow movements to make your muscles stronger. callanetics is equal to aerobics and cardiovascular exercise.
Advantages Of Club Spa