Destination Spa
What Is A Destination Spa: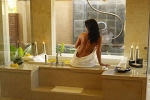 A destination spa is a residential facility for limited stay in which one gets to experience lifestyle improvement programmes. Self-renewal and health enhancement being the primary focus among a troupe of like-minded individuals and highly trained personnel. Destination Spas involve a combination of exercise, healthy eating, wellness education, spa and well-being treatments. People who are looking for a holiday to rejuvenate their minds, which result in good long term health benefits. A destination spa is about enjoying life with healthy habits.
What is the difference between a Spa Resort and a Destination Spa??
A Destination Spa is very different from a Spa Resort as a Destination Spa is exclusively meant for fitness. A Spa Resort may have certain characteristics of a Destination Spa however, but traditionally a Destination Spa has extensive fitness programming and education. A Resort Spa does not have the same criteria as a Destination Spa.

Moreover a Spa Resort has activities meant for pleasure whereas a Destination Spa has varied health programs and treatments and classes for nutrition counselling, cooking lessons, weight loss, fitness consultation, medical treatment, hair spa treatment, skin exfoliation, facials, massage, nail care, balneotherapy, body treatments such as body wraps, aromatherapy, waxing.
Benefits Of Destination Spa