Aromatherapy
Different Essential Oils And Their Uses:
21. Melissa (Melissa officinalis):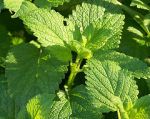 Origins: The Greeks and Arabs knew the properties of melissa and in the sixteenth century the Swiss physician Paracelsus hailed it as the "elixir of life".
Description: Mostly a native of Europe, it is also cultivated in North America. Better known as sweet balm or lemon balm, it is a bushy perennial of the mint family. The aromatic oil smells like lemons and is extracted from the leaves by distillation.
Therapeutic Effects: Long known as an uplifting and calming cure for "melancholia", its tonic, antispasmodic properties make it effective too in the treatment of allergies, colds, diarrhoea, hypertension, menstrual problems, migraine and stress headaches, nausea and palpitations.
Uses: Inhalations, baths and massage. The essential oil helps lower blood pressure and remove tension. Add six drops to the bath water. Melissa calms the body and mind, yet lifts the soul: an oil to dream with.
22. Myrrh (Commiphora myrrha):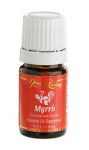 Origins: The Egyptians commodity. It was used by both civilisation in worshiiping their gods, celebration rituals, cosmetics, perfumes and herbal treatments. The Egyptians combined it with frankincense for embalming and purification purposes.
Description: A small tree, rather like a bush, myrrh is native in Arabia, Somalia, Ethiopia and other North African countries. Although the leaves are aromatic it is the resin which is distilled to produce the viscous, yellow essential oil. It has a warm, lightly spicy, sweet smell.
Therapeutic Effects: Anti-inflammatory and expectorant, myrrh will ease bronchitis, catarrh, coughs and colds. Good too for digestive problems, infections of the mouth and throat, and skin conditions.
Uses: Inhalation and massage. It is used in pharmaceuticals and perfumery. In aromatherapy, because of its cooling effect, it blends well with camphor and lavender.
Essential Oils And Aromatherapy - Essential Oils And Their Uses