Aromatherapy
Different Essential Oils And Their Uses:
25. Parsley (Petroselinum sativum):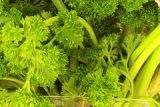 Origins: A lot of folklore surrounds the parsley plant. It was a medieval belief that it grew in the garden only if the man or woman of the house was "honest". When chewed, it would keep away the devil or, as later discovered, reduce bad breath.
Description: Native to Asia Minor, it is now found all over the world. The common parsley is cultivated for its culinary uses and essential oil properties. The highest content of oil comes from the ripe seeds but the leaves are also used in distillation. It has a warm, herbaceous, spicy smell and is used in many herbal perfumes and cosmetic products.
Therapeutic Effects: A diuretic, useful for kodney and urinary problems and water retention. Also high in vitamin A - essential for healthy hair, skin, teeth and eyes; and iron - for the blood and liver, and during menstruation and menopause.
Uses: Massage. It blends well with fennel to help combat excessive water retention when massaged over the body. In conjunction with lemon and rosemary it can help clear toxins in the liver and kidneys. In general, a good oil to help calm the nervous system.
26. Patchouli (Pogostemon patchouli):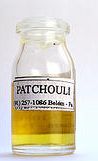 Origins: Along with rose, jasmine, sandalwood and basil, patchouli was one of the favourite perfumes used in India, and shawls and blankets were inpregnated with this rich oil. It is an aphrodisiac, and became very popular again in the 1960s for this reason.
Description: The oil is extracted from the dried, fermented leaves of the small shrub and emits an intense, woody, sweet, spicy, balsamic odor. It improves with age and is used as a fixative in perfume.
Therapeutic Effects: Patchouli is an astringent, and is useful for scalp and skin conditions including dandruff, acne, eczema and scars. It has an uplifting effect for depression and anxiety, and can help alleviate fluid retention.
Uses: Inhalation, baths and massage. Small qunatities will have a stimulating effect; larger doses sedate. Often worn as a perfume and used for an exotic, snesual massage.
Essential Oils And Aromatherapy - Essential Oils And Their Uses