Aromatherapy
Different Essential Oils And Their Uses:
31. Sage (Salvia officinalis, Salvia scarea - Clary Sage):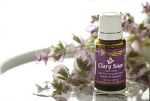 Origins: A sacred herb, its properties were used by the Egyptians to help cure infertility in women. The Chinese have used it medicinally for centuries.
Description: The many varieties of common sage are all shrub-like herbs with rough, wrinkled leaves. The oil is distilled from the dried leaves and has a powerful, fresh, spicy fragrance with a hint of camphor.
Therapeutic Effects: A tonic, particularly renowned for regulating menstruation, it can also help relieve arthritis, bacterial infections, throat infections and water retention. Clary sage is also used for its sedative and euphoric effects, and in treating insomnia, anxiety and depression, as well as menstrual and menopausal problems. It has a spicy fragrance, rather more floral than common sage.
Uses: Bathing and massage. A sage bath helps muscular aches and effects of prolonged stress or mental strain.
Cautionary Note: In high doses, sage can overstimulate and should be avoided by anyone who suffers from epilepsy. Both sage and clary sage should be avoided in early pregnancy.
32. Sandalwood (Santalum album):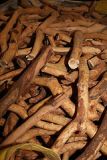 Origins: In China, India and Egypt sandalwood was used in perfumes and cosmetics. It has also been prized by furniture makers, and in India many of the temples were built with this lovely wood. Worshippers also covered their bodies with its essence, along with rose, jasmine and narcissus.
Description: The evergreen sandalwood tree grows to a height of upto 30 feet (8 metres) in Indonesia, South East Asia and in particular East India. The syrupy, balsamic oil is extracted from the roughly chipped and powdered wood by steam distillation. It has a rich, warm, woody odor. It is used as a fixative in perfumes and gives the lingering classic base notes in many expensive fragrances.
Therapeutic Effects: Sandalwoods sedative properties are good for treating depression and tension. It is also an expectorant and anti-spasmodic; useful for bronchitis, coughs, nausea, cystitis and skin complaints. Regarded as an aphrodisiac.
Uses: Inhalation and massage. Apply in a warm compress to revitalise dehydration skin. Blends well with neroli and rose. Massage enhances its soothing effects.
Essential Oils And Aromatherapy - Essential Oils And Their Uses