Aromatherapy
Different Essential Oils And Their Uses:
1. Basil (Ocimum basilicum):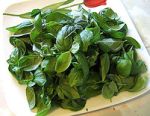 Origins: Basil was used in baths and body massage by ancient Greek nobles for its fragrant perfume. The Egyptians used the aromatic fragrance in their offerings to the gods and also mixed it with essences of myrrh and incense to embalm bodies. In India it is believed to offer protection to the soul and is sacred to the Hindu gods Krishna and Vishnu.
Description: Native of Africa and the Seychelles and now grown as a popular culinary herb in Europe, it can grow up to three feet (90 cm) in height and has small white flowers. The essence is distilled from the leaves and is a light greenish-yellow with sweet green overtones.
Therapeutic Effects: Ideal as a nerve tonic, to lift fatigue, anxiety and depression. Also good for bronchitis, colds, fever, gout and indigestion, and reputed to soothe snake bites.
Uses: Inhalation, baths and massage. It has both hot and cold qualities. When used in the bath or smoothed over the body it has an invigorating effect - great for sluggish skin and pepping up circulation. Combined with other oils such as thyme it also acts as a powerful antiseptic.
Cautionary Note: A powerful depressant if over-used. Also best to avoid during pregnancy.
2. Bay (Pimenta racemosa):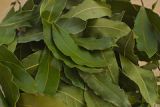 Origins: Roman emperors wore sprigs of bay, known as Lauras nobilis (Roman laurel), not only as a sign of wealth, but to ward off evil spirits. Greek priestesses chewed the leaves for their soporific effect, and after gastronomic banquets it was chewed as a breath freshener.
Description: Popular as a culinary herb, bay is an attractive evergreen shrub whose shiny leathery leaves produce clusters of yellowish-green flowers in spring. The spicy-smelling oil is extracted from the leaves and is yellowish brown in color.
Therapeutic Effects: As a pulmonary antiseptic, it helps relieve bronchitis, colds and flu. Also used to aid digestion and sleep, to soothe rheumatic aches and pains, and as a general tonic.
Uses: Inhalation, baths and massage. Widely used in perfume and exotic bath essences for its upligting effects.
Essential Oils And Aromatherapy - Essential Oils And Their Uses