Aromatherapy
Different Essential Oils And Their Uses:
15. Jasmine (Jasminum officinale):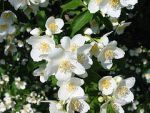 Origins: An ancient favorite of the Arabs, Indians and Chinese, Jasmine had a wide variety of uses including perfuming the body, scenting rooms and flavoring herbal teas. It was introduced from Persia to Europe in the sixteenth century.
Description: The Jasminum grandiflora is a small bush, native to the East Indies and Egypt and cultivated in southern France, Spain, Algeria, Morocco, India and Egypt. Its delicate white flowers produce a honey-sweet floral bouquet with fruity undertones. The deep-red oil is produced by enfleurage, and has an intense rich, floral fragrance that is warm, exotic. It is one of the most important and expensive extracts, along with rose, used in perfumery.
Therapeutic Effects: Jasmine is a mood enhancer, lifting anxiety and depression. An aphrodisiac, it has a reputation for the treatment of both frigidity and impotence. It will also relieve menstrual cramps and is soothing to inflamed or irritated skin.
Uses: Inhalation, bathing and massage will all exploit its warming and relaxing qualities. Also makes a delightful uplifting perfume or room fragrance.
16. Juniper (Juniperus communis):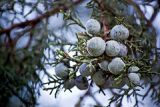 Origins: Grown in North America, Asia, Africa and Europe, this small shrub with aromatic leaves and berries was popular as incense to burn in religious ceremonies and to purify the air and ward off the plague.
Description: An evergreen bush with thick branches branches and narrow needle leaves juniper produces small yellow flowers and small purplish-blue berries. Both the berries and leaves have a strong aromatic fragrance, similar to pine-needles, but the oil is extracted from the berries by distillation, producing a plae yellow essence.
Therapeutic Effects: Diuretic and antiseptic, it is especially effective for the urinary tract and an excellent treatment for cystitis and water retention. Use for acne, colic, coughs, dermatitis, eczema, flatulence, rehumatism and skin ulcers.
Uses: Inhalation, baths and masdsage. The oil is a great stimulator and, like cypress and pine, makes a refreshing bath oil. Massaged on the skin it stimulates the circulation.
Essential Oils And Aromatherapy - Essential Oils And Their Uses