Spa DIY At Home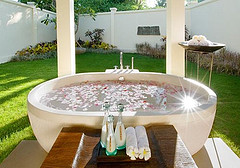 3.Retexturising Body Scrub:
This trestment will remove all dead skin, soothe your senses and lift your spirits.
Things You Need: A bathtub; 2-3 drops of rose lavender essential oil; 1/2 cup sea salt; 2-3 tbsp massage oil of your choice; a good shampoo and conditioner; 2 tsp liquid chocolate; nail filer; cuticle cream; 2-3 tsp turmeric powder mixed with 1 tbsp rose water; foot scrubber; a good body lotion.
How To Do It: Light some candles and fill your tub with hot water. Put 2-3 drops of essential oil and some of the sea salt. Mix the rest of the salt with the massage oil and apply it all over the body. Keep for 15-20 minutes and relax. Then wash off. Next, shampoo your hair and apply the conditioner mixed with a little chocolate; massage gently into the roots and tuck your hair under a shower cap. While you wait for your hair to heal, file your nails and put the cuticle cream on your cuticles. Then clean your face with the turmeric mix. Now just slip into the tub full of warm water. Relax and soak for 10-20 minutes. While you are in the tub, give your feet a nice scrub. After finishing, wipe yourself semi-dry and lather on a lot of hand and body lotion.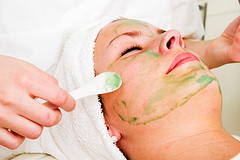 4.Mineral Polish:
It will make your skin smoother and shinier and remove all tan.
Things You Need: 6 tbsp of neem or tulsi powder and aloe vera gel as required to make a rich paste; 1/4 cup cleansing milk; a loofah, a body moisturizer.


How To Do It: Take a shower with hot water. If your skin is very dry, apply some cleansing milk and then take the hot water bath. Wipe your body semi-dry. Apply the paste in a circular motion, spending a few moments on every body part. Then scrub the body with a loofah, so that every last bit of dead and dry skin is scrubbed off. Take a shower with cold water and rinse the scrub off properly. Now apply the moisturizer and enjoy your new skin.
Spa DIY At Home