Home Spa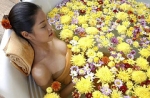 A spa is a place where one goes to get health treatments are places beauty treatments with the main goal being relaxation and relief from the stress and strain of daily life. Spas have become very popular due to extreme stress in professional life. However for those who want budget their expenses and yet have a spa experience; can do so right in the comfort of their homes.
Creating A Spa Atmosphere At Home:

Take out some extra time and follow spa recommendations, buy a stalk of the right products and keep it at home to give yourself the spa experience whenever you want.
Always keep scented candles, the ones that has a smell of a waiting room in a spa.
A CD with soothing music helps to feel relaxed.
Always keep stalk of bath salts and essential aromatic oils.
It is advisable to keep coarse sea salt as a natural exfoliant.
Keep green tea, so that it is available to steep at any time.
Keep your bath robes ready.
Use a nice light coloured fluffy towel.
Plan Some Healthy snacks and call your friends over if you want to, although privacy is better idea as the main goal is to take time off for yourself.
Use dim lights while giving yourself the spa treatment.
Benefits Of Home Spa