Hot Stone Massage
Precautions For A Hot Stone Massage: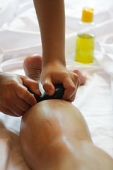 If health conditions do not permit, avoid regular massage, then you should also avoid hot stone massage. If you have any nerve damaged areas where you cannot feel heat, it should not be worked on and neither should areas that were recently operated on. If you are thin, or lean with think skin or elderly, the heated stones may burn you, and if you are pregnant, hot stone massage should also be avoided.


Hot stone massage is not recommended for people who suffer with an infectious skin disease, or have an open wound.
Avoid a hot stone massage if there is a prevalence of a tumor, inflames skin or recent fractures.
People prone to blood clots and those who have a heart disease should avoid hot stone therapy as well.
Pregnant women should check with their doctors before considering a massage of any kind.
The therapist administering the hot stone massage should be a certified therapist.