Medical Spa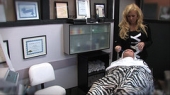 What Is A Medical Spa?
A medical spa which is combination of a health clinic and a day spa under the supervision of a doctor, and it treats special health conditions like redness, brown spots, broken capillaries that require special attention and effort to get rid of. A person can get a wide range of health treatments and beauty treatments that are meant to relax and relieve the person from stress and strain as well. The word spa originated from the latin phrase meaning " health through water, as the concept of spa is hydrotherapy which means immersing the body in water and herbs in right measures and combinations. The idea is to cure ailments and to maintain a balanced diet and regularly exercise. The health spa package menus vary from spa to spa some of the treatments that take place are laser treatments, laser hair removal, IPL treatments ( intense pulse light ) photofacials, strong chemical peels and skin tightening, Botox and fillers, microdermabrasion. The atmosphere is clinical and other facilities offered are acupuncture, nutritional counseling and assistance on naturopathic disorders. Some spas are dedicated to particular health aspects like weight loss regime or for back pain treatment. However before any kind of health treatment consult a doctor who has specialization in the area of the pathological disorder. The cost of treatments like laser and skin tightening are high because the cost of maintainance for the equipment is high and the technology is always being upgraded that causes less or no pain to the body, with the least amount of long term effects. While it makes things much more convenient for a lot of people, it is important not to forget that you are receiving health treatments and these treatments should only take place in the most sterile environments and by those that are qualified to perform them; apart from which other services are also offered associated with a spa such as pedicures, massages, and facials. In a medical spa the professionals are focused to help you take care of your individual skin care and beauty needs. licensed professionals are hired to help you with your queries and decision making, the professionals help you as they recommend products and treatments so that you can make the most out of your visits to the medical Spa.

Types of treatments offered in a medical spa:
There are a wide variety of treatments offered in a medical spa for various clinical disorders as mentioned before right from Skin Pigmentation, Scar Treatment, Wrinkle Reduction and Tissue tightening. Some medical spas offer wellness options and other services like acupuncture, nutritional counseling and naturopathic doctor consultations. However do note that a medical spa offers a combination of regular day spa treatments along with medical service.
1. Intraceuticals - Hyperbaric Oxygen Facial Technology: This is an intraceutical facial that is used mainly in high profile spas with the use of hyperbaric oxygen technology, a lot of celebrities prefer this facial, also used by dermatologists; it leaves your skin looking more clear, bright and rejuvenated.
2. Laser Facial: A laser facial reduces visible facial vessels, lessens Rosacea, redness, sun damage and large pores, for a healthier appearance, it is technology wherein laser beam of light radiation is used to bear intense energy to a particular area of the skin, it removes the surface layer and exposes the pink layer of the skin, and contributes to the growth of new collagen and fibers, however when the skin heals a new layer of skin is formed with less scars and marks.
Medical Spa Treatments