Spa Treatments For Men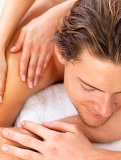 The metro-man no longer fits in the definition of the regular city boy and the definition of masculinity goes beyond the definition of "manly" alone; as the modern men are becoming more spa savvy, the spa industry has witnessed an exponential growth because of a growing male clientele. The basic idea is to be well groomed and look presentable. Special men's packages are introduced to keep men from feeling hesitant to walk into a spa. A spa is not only a place to look good but also a plce ti maintain hygiene , it is a place where one goes to seek proper physical care and remove ingrown hairs, blackheads and other blemishes. Men also like to respond to the idea of luxury and benefits of it like women do.
Men's Spa Treatments:


Men usually do not indulge in body wraps and alternative therapies but mainly facials, massages and Saunas.
Although there are the main three main categories of treatments, most of the treatments are given aesthetic names to attract a larger clientele; with a qualified staff of massage practitioners; personal trainers; yoga instructors; healthcare providers.
Body Work such as body polishes, Body wraps and scrubs; facials; foot treatments; and nail care (manicure and pedicure), stone therapy (the laying on of basalt and sedimentary stones both Hot and cold ) also qualifies as a body treatment. If you have an interest in skin care, then a professional body job will blow your mind.
Massage involves Swedish, deep tissue, and stone massage, Thai Yoga along with acupressure; reflexology and aromatherapy massage are enjoyed by men as well. Touch through rubbing or kneading of parts of the body to aid circulation, relaxes the muscles, or provides sensual stimulation as well.
Saunas, steam rooms and treatments are very popular with men as well as women as it is considered a luxurious activity. Men prefer a sauna because it is associated with sports and muscular pain and relief, and is highly beneficial before a massage, it softens the skin as well. A sauna is typically a small room designed for sessions that allow steam to surround your body.
Sauna Suggestions:


Always avoid alcohol, grape fruit juice and medications that may sabotage sweating and produce overheating before and after a sauna.
A sauna treatment should not take place for more than 20 to 30 minutes.
Make sure to cool your body after a sauna.
Drink three four glasses of water at room temperature after every sauna session.
Avoid taking a sauna when you are ill.

The different kinds of bath therapies are all very important as well, as it directly affects the skin - mud baths, steams, showers,herbal baths, and hot springs provided the facility is available.
Why Do Men Need Spa Treatments