Mineral Spring Spa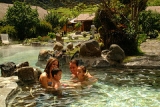 A mineral springs spa contains a natural source of mineral water that you can soak in. Mineral springs have been valued for thousands of years for their power to ease joint pain, arthritis, and other physical ailments; as it is a natural approach to ailments. Geothermal activity heats the spring water to an extent that it may be required to be cooled. Mineral springs may come out of the earth at a moderately warm temperature and then be heated for bathing. Natural mineral such as bromine; sulphur; iodine; manganese; iron; sodium; potassium; magnesium; calcium etc...etc... in different measures in different springs, and spas always document the exact content of each mineral for the knowledge of the client, and different compositions serve different ailments. Mineral spas vary from place to place some spas offer historic bathhouses to communal outdoor pools and some are built with many amenities but private rooms which contain a pool with mineral water. There are many historic spa cities all over the world. Drinking mineral water is a cure for various ailments as well. Hydrotherapy is an ancient art and alternative medicine and moreover it was a sacred ritual, where pools were built in temples for priests, whereas the local Egyptians had bath-tubs in their houses. Hippocrates a very learned Greek introduced the use of hydrotherapy to the Greek world and specified that a river bath would help to maintain a fitter body. therefore hydrotherapy is less of indulgence and more of a health application. The pressure that is exerted by eater on the body stimulates touch receptors on the skin as the touch is feather-light thus creating a hydrostatic effect on the body.
Spa Water Treatments: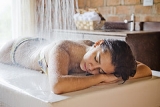 1. A Scotch Hose: A Scotch Hose is an instrument mainly used in a Swiss shower massage that provides high water pressure. The therapist is in control of the hose and has to alternate between hot water and cold water, while the client is standing. This provides a stimulating effect blood circulation, and increases the function of the immune system against diseases, which also soothes and relaxes tight sore muscles.
2. Swiss Shower: In a Swiss shower bath multiple needle-spray shower heads are used along with two high-pressure scotch hoses which is always controlled by a therapist and alternates between hot and cold water that is fresh or consists of salt; hence changing in temperature rapidly from 45° F to 105° F. The immediate result is that it dilates the capillaries.The hot sensation on the skin creates a soothing effect on the body which slows down the activity of the body's internal organs. The Cold sensation , creates the opposite effect. The body becomes stimulated and the activity of the body's internal organs increases. The combined effect produces good results which benefits the body greatly.
3. Vichy Shower: Vichy shower is like experiencing a warm a summer rain. While you lie on your back, overhead showers release water at fluctuating temperatures and water pressures. A vichy shower is often applicable as a as a rinsing treatment follow-up for masks, body scrubs and wraps. A Vichy shower usually consists of a metal rod containing multiple showers running parallel to each other. The Vichy shower can be attached to a wall or it might be one that is free standing.