Pregnancy Massage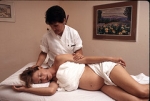 When it comes to pregnancy, women very sensitive especially at the early stages of pregnancy. Its alright for women to undertake certain tasks however must not be heavy because it may be dangerous for the mother and to the baby. Expectant mothers should eat healthy foods and exercise each day as well; but exercise refers to light exercise only.
Why Take A Massage During Pregnancy:

Pregnancy can render certain side effects such as back pain, Cramps, Constipation, Dizziness and Faintness, Fluid Retention, Varicose Veins, Varicose Veins, Tender or Sore Breasts, Rib Pain and Soreness, Morning Sickness, mood swings, Insomnia, High Blood Pressure or Hypertension, piles. The increasing volume of the uterus and the congestion of the pelvis can increase the likelihood of compression of a nerve root, causing sciatica.
It is therefore understood that while a woman is pregnant her body undergoes numerous changes physically as well as physiologically which also causes mental changes as well. However the physical changes can cause stress and discomfort. In order to alleviate the discomforts massage is an alternative therapy for expectant mothers to de-stress them selves.
Pregnant women can take a full body massage for example Swedish massage or a light massage that will include other methods such as reflexology, or circulatory work,cranial sacral therapy.
Massage therapists are not only trained to massage but hav e a good knowledge of other alternate therapies as well.
Who Should Take A Pregnancy Massage:

The body of an Expectant mother is in the process of gestation, and is on the threshold of a very crucial stage in life; therefore it is best to get a certified therapist, who understands the anatomy and the requirements of a pregnant woman.
The Expectant mother should be positioned in different ways as she proceeds with the pregnancy cycle.
A certified massage practitioner will not allow a pregnant woman to lay on the back after 22 weeks of pregnancy.
The expectant mother can also experience decreased circulation, as deep blood vessels can be restricted due to the weight of the unborn child.
A well trained and experienced massage, therapist will also know which areas of the body should be kept away from massage strokes; for example the space between the ankle bone and the heel. As pressure to this area may cause early labour.
How To Massage A Pregnant Lady