Shiatsu Massage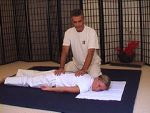 The roots of shiatsu can be traced back over 5000 years to the ancient Chinese forms of medicine such as acupuncture and acupressure. However, it is a modern Japanese therapy, which fuses traditional Eastern practices with Western techniques of osteopathy. Literally translated the name means finger pressure, Shi (finger) and Atsu (pressure), although elbows, knees and feet are also used to press along the body's network of meridian lines and pressure points, releasing blocked channels of energy. It is an holistic method of alleviating pain promoting health in the whole body.
Giving A Shiatsu Session:
If your partner closes their eyes, this can make the session a special time to relax and switch off the world. There is no need to talk during a treatment as the communication of touch can say so much more. One of the fundamental principles of shiatsu is to have simultaneous touch from both hands. With a two-hand connection a circuit is created, bonding the giver and receiver. To keep this link, one hand is stationary, the support hand and plays the role of listening and comforting your partner, while the other hand, the messenger hand moves and does all the work.

The amount of pressure from both hands will vary with the area of the body you are working on. The messenger and support hands change roles many times throughout a session. What you are trying to achieve is two points of contact merging and feeling like one to both therapist and partner.

Even as a beginner use your sense of looking, asking, listening and touching. Listen to your partner's needs and ask about symptoms before giving a treatment. Your motivation to help can be felt by your partner through the hands, transforming the simplest techniques into a caring bond.

Before giving a shiatsu treatment, calm the mind, as any tension will transmit itself to your partner.

The Hara:
The Hara is one of the most powerful energy centres of the body. In shiatsu terms it is located below the navel in the lower abdomen. It is the physical centre of the body and features prominently in all shiatsu treatments. The Hara incorporates the Yin (Earth) force flowing up the front of the body, and the Yang (Heaven) force flowing lower abdomen. By focusing all can give harmonious and supportive treatments. Develop an open-posture principle in which your Hara is physically and energetically behind all your movements. This enables weight to be used instead of force. The simple rule is if you're not feeling comfortable and relaxed your partner will become aware of this.

Breathing is very important when stretching and applying pressure. Breathe in deeply and exhale as your move into a stretch, encouraging your partner to do the same.
Shiatsu Massage Techniques