Short Spa Treatments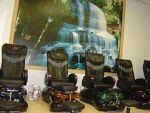 If you are short on time or cannot afford exotic spa vacations, you need not worry as you can still avail of your favorite spa treatment at a day spa or spend a weekend at a resort spa near you. If you do not have time to go for long-term treatments or Lengthier spa rituals, you can go for short-term spa therapies which are very beneficial. These are basic spa treatments that are usually availble at any day spa nearest to you. However if you wish to indulge in short spa treatments for a specific goal along with a healthy spa lifestyle, spa cuisine, then a destination spa is the ideal place for you.

1. Pedicures / Manicures / Nail Services: A pedicure is a treatment that beautifies the feet and nails. Feet are soaked and exfoliated with a scrub to remove dead cells, cuticles are groomed, and nails are trimmed and shaped and buffed and coated with polish or nail art.
A manicure beautifies your hands and nails by soaking and exfoliating them with a scrub to remove dead skin cells, grooming cuticles and trimming and shaping the nails. Nails maybe buffed to a shine or coated with a polish. May include a hand massage.
Nail service includes, nail soaks and cleaning, nail fungus treatment if needed, nail oil treatments, trimming and shaping and buffing services, cuticle grooming and nail shining. End with a nail base coat and polish and decorative nail art if desired.



2. Facial Treatments: Facial treatments cleanse and improve the complexion of the face using products that best suit a specific skin type. May include gentle exfoliation, steaming to open pores for extractions, application of a facial mask and moisturiser, and a facial massage. Types of facials include aromatic, oxygenating, whitening and deep cleansing facials.
A Facial mask is a cleansing facial treatment where products are applied on the face and left on for a period of time to cleanse pores and slough off dead skin.
Facial scrubs are used to exfoliate the face using products with abrasive ingredients to remove dry, dead skin cells and improve blood circulation. Softens the skin and gives it a healthier glow.
Eye-treatments and eyebrow shaping are also short term treatments available at the spa beauty salon. Eye treatments focus on the delicate eye area, generally to combat signs of premature aging, relieve tired eyes, and reduce puffiness and dryness.
Eye brow grooming and shaping can also be done by tweezing to suit the facial features.
More Short Spa Treatments