Spa Therapies Of China
Balancing The Chinese Life Force: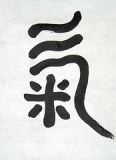 When the World Health Organisation (WHO) first begin endorsing traditional healing systems, traditional Chinese Medicine (TCM) was placed on the top of their list. This is not surprising, as TCMs influence has spread further and wider than any other contemporary therapy. Many spa treatments you will enjoy in Asia have roots in Chinese healing philosophies. While the practices may vary slightly from country to country due to the availability of ingredients and therapists, the fundamental conceptual paradigms adopted are very much the same. Therapists in spas adopting Chinese systems of healing are well-versed in the philosophical underpinnings of TCM. During your first visit, a practitioner of TCM will usually take some time to examine your state of well-being by the use of touch, sight and intuition. He may also ask you questions about your emotional and physical health. After getting a comprehensive picture of your medical background and present condition, he may suggest treatments such as acupuncture, massage or an exercise routine. In addition, you may be given suggestions on how to improve your lifestyle, and be introduced to herbal remedies or diet considerations to enhance your health. The heart of Chinese practice is its individuality and you will receive a unique combination of therapies according to your specific needs.
1. Qi:
The concept of qi, the 'vital energy' or 'life force' within us all, is fundamental to the understanding of Chinese healing. While Western medicine revolves around the concepts of physical structures and components that work together to produce cause and effect, TCM considers 'process' as a fundamental principle that explains how we function. A Chinese practitioner sees your body as an energy system in various substances are interacting to drive the entire physical organism. The most important substance present is qi, together with jing (essence) and shen (mind or spirit), form what is termed the Three Treasures. Qi is the life force and the organising principle flowing through the body; jing governs vitality and longevity; and shen is responsible for consciousness and mental ability. Blood and body fluids are the other vital substances. The Chinese believe that illness and ailment result when there is an accumulation or a blockage in the flow of these substances in the body. So when recieving therapies such as acupuncture, moxibustion, acupressure, reflexology and tui na, or practising exercise routines such as qi gong and tai ji, you are orking towards removing these blockages and encouraging a better flow of qi.
Spa Therapies Of China - Balancing The Chinese Life Force