Spa DIY At Home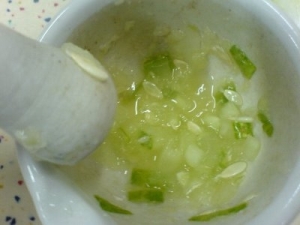 4.Cucumber Wrap For Pigmented Skin:
It will make the heat seep out of your sunburnt body. It's the best cucumber cooling recipe.
Things You Need: 1 kg cucumber with skin and pips, whizzed in a blender; 2 drops lavender oil; 2 drops tea tree oil; 2 drops chamomile oil; a cotton sheet; any branded moisturizer (Optional).
How To Do It: Cover your body with the cucumber mixed with the essential oils. Wrap your body in the cotton sheet and relax for 30 minutes. The cucmber feels cool and you will sense the heat being drawn out of your body. Take a shower and wipe off the water. The cucumber leaves your skin so soft that moisturizing afterwards is optional.
6.Dry Fruit Body Scrub:
It's a simple body spa treatment which will leave your skin smooth and soft.
Things You Need: 2 large towels; 2 sandalwood aroma candles for relaxing; 200g almonds powdered; 200g walnuts powdered; 1/2 litre milk; 1/2 kg fresh rose petals ground into a paste; 100g rice flour; 100g oatmeal; 100ml almond oil; 5 ml sandalwood oil; a loofah or damp towel.
How To Do It: Mix all the ingredients and apply all over your body for 20 minutes. With a damp loofah or hand towel scrub off in rotating movements and wash.
Previous Tips On Creating A Home Spa
Tips On Creating A Home Spa