Spa Therapies Of Japan
Ki - The Japanese Healing Bowl: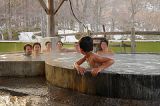 Spas in Japan are largely centred around bathing - a reflection of the importance of purity to the Japanese. Onsens (natural hot spring baths) and rotenburos (outdoor baths) now dot the volcanic islands that make up Japan. Unlike other spas in Asia where the healing experience is essentially a private ritual involving only the therapist and recipient, Japanese onsens offer a communal atmosphere. The Japanese take this ritual as seriously as sipping their tea - it is done regularly, leisurely and sometimes with company. Many spas are found around the volcanic areas in Japan as the Japanese believe the mineral-enhanced waters found there are beneficial to health. The baths are usually divided into two sections, one catering to men and the other to women. Sometimes, only a screen separates one section from the other. In larger spas, you may even find a section set apart for families. You'll be expected to disrobe before you enter the main bath area where you can have a quick rinse and scrub using a wash towel and a jar or bucket of water, before stepping into the piping hot waters.

Unlike the bathing ritual, which has its roots in Japanese culture, most of Japan's other therapies are influenced by theories and literature from China, Korea and Europe. In fact, kanpo, Japan's traditional medicine system, literally means 'Chinese method', and is the Japanese adaptation of traditional Chinese medicine.
Spa Therapies Of Japan - Concept Of Ki