Spa Methods
Spa Treatment Methods: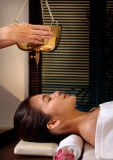 1. Shirodhara - an ayurvedic massage: Shirodhara is a unique soothing treatment procedure of gently steaming warm, medicated oil on to the forehead to stimulate the blood circulation and relax you. It relieves mental stress, soothes the mind, improves vision and is very effective in curing sleep disorders such as insomnia.

2. Jacuzzi: This whirlpool bath has patented jets placed at 50/50 air to water ratio providing an experience of a jacuzzi jet. deep-tissue massage concentrates the therapeutic power of water to your source of tension. with spacious bathing wells and a multitude of jet placements, it provides a customized experience. This hydrotherapy is great for the muscles and soothes your tired body as the end of a long day.

3. Facial: A cosmetic treatment of the face, commonly involving a variety of skin treatments, grooming steps and deep cleansing of the face by various means steam, exfoliation, extraction creams lotions masks peels and massage.



4. Footwork: Like anyother part of the body, the foot also deserves special care and pampering. A foot care treatment can help cleanse; deodorise, and soften he skin on your feet. The dead cells arfe buffed, followed by a treatment of foot scrubbing; conditioning mask along with other foot grooming procedures like cleaning, trimming and chaping the nails. The treatment ends with a massage on the softened and fresh skin to for the body to get maximum bebefits of the foot treatment.

5. Paraffin Application: Wax that is softened to a creamy texture, for a hydrating treatment, a Japanese dry brushing technique is used with a componet of paraffin oil lower than normal temperature which is and safe for the body to be emersed in which does not cause blisters or burns to the skin moreover removes dead skin cells. The goal is to soften the skin and moisturize it. Paraffin is a component of manicures and pedicures as well. Lavender paraffin wax treatments are populare as it has a touvh of aromatherapy.

6. Heat therapy: Heat treatments involve the use of natural curative springs as well as artificial heat sources. Thermal-therapeutic methods witch is the treatment of disease by heating to therapeutic temperatures or heat applications on local infections, muscles to relax and relieve pain in patients who have motor problems, promotes circulation in peripheral vascular disorders such as thrombophlebitis. some healing methods include the use of paraffin,electromagnetic waves, electromagnetic waves, sauna and peat.



7. Hydrotherapy: The Kneipp method of hydrotherapy is the altenate use of cold and hot water to help support tissue metabolism and capillary return; other applications of hydrotherapyare: whirlpools, baths with additives, Finnish sauna, Turkish steam baths, Scottish showers, and alternating walking baths etc.

8. Electro magnetic therapy: These methods includes the use of air that is directed to a problem area in the body with alternating temperatures, in a way that the heat reaches the internal area of the body at an elevated temperature but the alternating effect will not allow the skin to get burnt or blemished, thus renderingElectro magnetic energy as therapeutic to the body. Other applications of Electro magnetic therapy are a solarium, infrared lamps, diathermy (sub-cutaneous heat treatments), ultra-sound, a diatron, magnetic therapy, galvanic (usingelectricity produced by chemical reaction) limb baths, fyaction and interferential streams etc.

9. Inhalation therapy: Inhalation therapy deals with the respiratory system which treats inflammatory airway disease. There are three inhalation procedures namely Upper Respiratory Tract Inhalation, Lower Respiratory Tract Inhalation and Group Inhalation. Group Inhalations are very popular.
Spa Wellness Treatment Methods