Spa Therapies Of New Asia
New Asian Paradigms Revamped: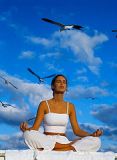 Many of the therapies known as New Asian are based on traditional oriental healing systems that have been practised throughout history. Often, the founders of these therapies are trained in traditional oriental healing methods which they later modify. Not surprisingly, many New Asian therapies maintain the principle of balance within the body with nature. Examples of New Asian Therapies include watsu, marma point massage and macrobiotics. Watsu is based on shiatsu, marma point massage has its origins in Indian Ayurveda, and macrobiotics is partly derived from traditional Chinese Medicine. The macrobiotics approach recommends a diet based on your yin-yang balance and making adjustments to your lifestyle. For instance, you are encouraged to adopt more natural ways of cooking by using gas and wood stoves instead of microwave ovens, and to use products that do not contain toxic ingredients. Many New Asian therapies combine different traditions within a treatment. So instead of having a strictly Thai or Indonesian massage, you might enjoy a massage that borrows from many different massages - the four-handed massage is one such example. Another term of treatment, equilibropathy, combines acupuncture with stretching and breathing exercises.
Spa Therapies Of New Asia - Marma Point Massage