Spa Party
If you are longing to go on a vacation for relaxation, rejuvanation and enjoyment away from the hustle and bustle of city life to some distant and exotic beach, yet do not have the time for it, you can have the same within the confines of your home or elsewhere nearby along with the loved ones you want to be with. Just throw a spa party which will give you and your guests all the relaxation and rejuvenation you need. You cxan also throw a bridal shower spa party or a birthday spa party for your daughter. The idea is to have some serious fun through energy replenishment rituals. The right planning coupled with the right arrangements make such parties a success.
Spa Home Party:
A spa party promises to offer the right quantum of pleasurable relaxation for yourself and your female friends in the comfort of your home.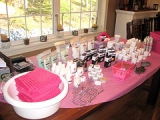 1. Planning the party:

Once you have decided to host your spa party at home, you need to make a checklist of friends that you wish to invite, also whether it is a spa party only for your girlfriends or for couples.
You need to segregate spaces in your home as sperate zones for men and women if privacy is needed.
Once the list of invitees is prepared you need to checkup with all for a convenient date and time.
Depending upon the time you need to prepare the treatments that you would like to include. For example a spa party during the day would have lots of water therapies, yoga, massages, scrubs, facials and manicures and pedicures. Whereas a spa party in the evening would have a time limit and would involve less therapies and treatments.
If you are planning for spa DIY scrubs and recipes or ready made spa kits.
Plan the spa party favors
Consider the cost and expenditures of your spa party.
Depending upon your budget and the number fo guests plan whether you wish to host a DIY spa party with homemade treatments or call the professionals.
When planning for food items check with your guests if they have any food allergies.
Arrange alternatives for children and young kids if they need to accompany your friends. You can pack them off to your kid's room to have their own party and food and activities. Keep a guardian to engage them and sort out things for them, so that you can relax and be totally stress free.
Segregate Spaces For Your Spa Party