Spa Party
Spa Home Party:
2. Segregate Spaces For A Home Spa Party: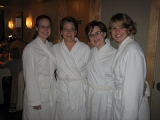 A spa party is a great opportunity with the right kind of a friendship ritual for women who not only want to highlight a healthy lifestyle but share a good laugh over what women do best......setting fabulous beauty regimes over fruity cocktails and delectable dips. A spa get-together is a time of celebration and conversations when women share their experiences, feelings and not to mention every conversation brings with it some amount of knowledge be it related to shopping, home remedies, relationships or even new places to visit such as restaurants, holidays destinations, malls and spas. So why spend your precious time and energy as well as financial resources going to spa when in fact you can enjoy all spa benefits in the comfort of your home, all you need is time and patience and bit of tact to convert your room into a spa for a perfect G.N.O ( girls night out ) or even your personal haven.
Easy Tips To Convert Your Home Into Private Spa Spaces:

Re-decorate any room in your house provided there is an adjoining bathroom at arms length for quick access for the constant supply of water, for cleansing, facials, pedicures and of course a quick shower or a hydrotherapy treatment.
Use your bedroom or even living room to transform it into a spa type space to create a living spa experience for your friends and guests in general.
If you are the kind of person who likes to indulge in regular spa treatments at home, make sure you have a clean bath tub.
Place your furniture such as showcases and cabinets in a way to maintain ample space for movement, there should be enough room for all to move around, spaces can be segregated from a a changing room to special areas reserved for pedicures or facials and massages either by dividing the room into different areas with the help of furniture, or a better idea would be to use portable folding screens that divide the spaces into different areas of spa sections.
Organize a sitting area with the spaces divide by flower pots or use curtain beads, string curtains light fixtures or even hanging glass decor to extract an essence of melodrama, a feeling of a spa culture right at home.
You can even segregate the spaces to create a spa ambiance by placing a long row of candles to make divisions in any area or corner of the room.
Pitches filled with water that contain aromatic oils and flower petals can be used as unique dividers to create a whole new space with a personality of its own, and is a great way to inculcate the presence of a spa atmosphere.
If you lack items to divide the space at home or you do not have sufficient time in hand large decorative center piece is an excellent solution to give the room a spa feel with of-course a few other personal touches to create the right effect that one requires to relax...basically a spa friendly atmosphere can be created with anything that looks gorgeous and that which reminds you of a spa.
The spa atmosphere has a character of its own, the colour you give to your room can largely contribute towards the mood that your home sets for you, therefore it is advisable to have pleasant hues that welcome the feeling of relaxation and warmth.
Printed material can be used as screens if you lack curtains, because some homes have blinds instead of curtains.
Women who would like to create a permanent spa area in a room but by using the space intelligently, without actually using up the entire space in the room, can do so by placing a single cabinet which has a multi-purpose utility factor. The cabinet can be used both as a divider a storage facility and most importantly you can turn into your personal spa provider utility or spa station as well as a decorative feature.
Lamp shades are a fine depiction of the first rays of sunlight, in the room hence they evoke a feeling of freshness and goodness, a must feel at a spa. Use beautiful lamp shades to make create spaces which will exude a combination of a spa ambiance and fresh comfortable environment of calmness and relaxation.
Spa Home Party - Segregating Spaces For Men and Women Guests