Spa Party
Spa Party For Children: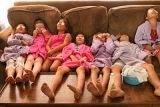 Today spa party for little girls are very popular with children demanding spa birthday parties where they can be pampered like a princess along with their friends. This sort of Spa party should be given only for children above the age of 5-7 years. However do refrain from giving body massage to little girls below 15 years. Keep the spa party simple and fun, and avoid messy treatments. Such spa birthday parties should safely and ideally be conducted at home where each child should be accompanied by her mom, who can guide her child. You can keep separate spa stations, such as the facial station, nail station and hair station.

Invitations: Personalise the party invitations stating clearly the time, date, venue, spa activities to be included, and also do mention whether you wish the mother to accompany the child and duration of the spa party. Personally follow up on each child guest to find out about any food or product allergy before finalising anything.

Decor: Use curtains and drapes to segregate spaces. Rearrange furniture to leave out space in the center, drape the furniture in white like in day spas, and leave enough chairs for all guests. You can leave 1-2 mild, scented candles out of reach of children. Keep enough comfortable pillows. You can make different spa stations with different accessories - everything labelled. You can make use of festival lights for decor, but they should be out of reach of children. Keep personalised bath robes and floral hair bands neatly arranged which may be given to each guest and later on given away as spa party favors. Keep a buffet table aside which maybe used for spa activities and later cleared up to serve food. However, you may also keep a light refreshment and drinks station handy, which should have a first aid box also.



Treatments: As your little spa guests come in, each of them can have a bath robe, flip flops and hair bands to wear and get ready for the pampering. Ensure that their hair has been properly kept off the face before you start the activities. Depending upon the age group of your children you need to include spa activities and treatments. You can have spa facials, spa hair care and spa nail care and spa makeup. Each spa treatment can have different stations which maybe personalised with banners and lights and labels.
i. Facial Spa Stations: These should have mirrors, towels, cleansers, cotton, moisturising lotions, lip balms, and cucumbers cut into rounds for the eyes. You can also keep ingredients for the children to make thier own cosmetics with help from their moms.
ii. Hair Styling Station: Moms can give their children diffrent hair styles which are suitable for them You can also include hair oil massages and shampoos, and conditioning. Funky hair updos and styles can also be included.
iii. Nail Care / Decor Station: This station should have nail soaks and and hand creams and nail polishes and glitters for nail decor. The mothers may do up nails for the little guests. You may also give them a basic manicure and pedicure.
iv. Makeup / Updo Stations: You can give your daughters a glitzy, non-toxic glitzy makeover or updo.
Spa Party For Kids - DIY Crafts