Spa Therapies Of Thailand
Sen - Thailand's Healing Legacy: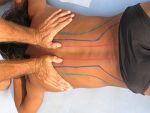 Thailand, also termed the land of wats (Temples), is one of Asia's best destinations for a spa getaway. Thai spas are well-known for their luxurious surroundings and can be found throughout the kingdom - from the city of Bangkok to the hilly northern region of Chiang Mai and southern beach paradise of Hua Hin. Of all the treatments offered in the spas, the most popular and famous one is the Thai massage. People have been so intrigued by the wonders of Thai massage that they seek professional training in it before introducing the art to their home countries. The Nuat bo'rarn (Thai massage) was developed in the ancient kingdom of Siam some 2500 years ago.'Nuat' means 'to touch with the intention of imparting healing' while 'bo'rarn' is derived from the Sanskrit language and means 'ancient, sacred and revered'. Put together, 'nuat bo'rarn' literally means 'ancient massage'. No visitor to Thailand should leave without experiencing a Thai massage. If done well, a Thai massage will soothe aches and pains, loosen joints and ease muscle tension, leaving you feeling completely refreshed.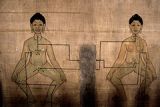 The influence of Indian Ayurveda and TCM is evident in traditional Thai medicine - practitioners of traditional Thai medicine believe in the presence of a basic energy life force that runs throughout an intricate and complex network of energy channels within the human body. Sen are acupressure pints that are found along these energy lines. The human body is believed to have 72,000 sen points, and each has its own specific function. Practitioners of Thai massage only focus on ten, believing that these are sufficient to treat illnesses of every kind, in every part of the body. Medical systems based on this thoery of energy channel and acupoints stress that ill health is the result of an imbalance or disharmony of energies within the body. Consequently, the way to address this is via external stimulation by way of massage or other means. Any blockage of energy along the channels must be removed and an evenly distributed free flow of energy encouraged within the body. This will help restore balance and in turn ensure the well being of the person. Many Thais today still apply this belief and seek a massage as a tool for relaxation and disease prevention. Applying appropriate pressure on sen points is believd to release the body's natural healing energies and redirect them to areas that need healing. It also promotes blood and lymphatic circulation, helping to eliminate harmful toxins within the body.
Spa Therapies Of Thailand - Thai Massage (Nuat Borarn)